| Reviews
2012 interview for Augusta Savage Gallery exhibition (pdf)
Easel with a view: Amherst artist captures Mount Norwottuck, apple trees through the seasons from a favored spot
By MELISSA BREOR Bulletin Contributing Writer
Published on August 28, 2009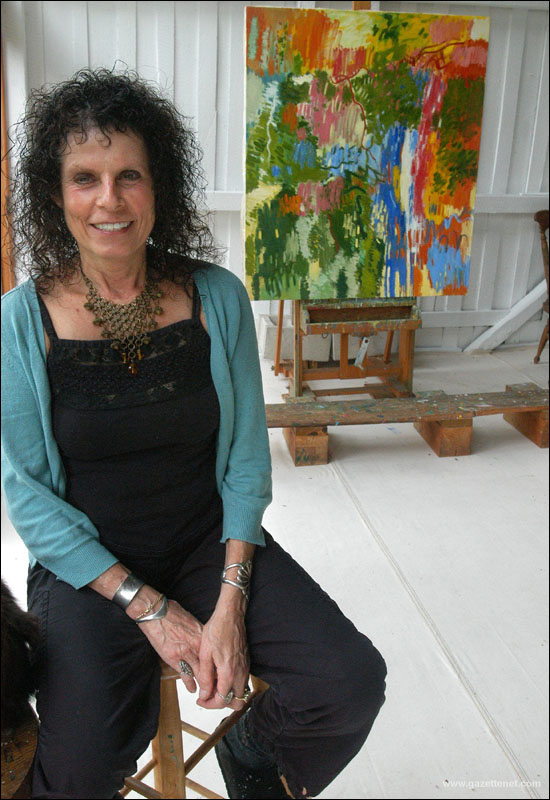 Catching sight of the Holyoke Range and Mount Norwottuck is a daily occurrence for Amherst residents. And for some, like artist Lorna Ritz, it's a treasured moment. "I see that place as a jewel of the town," Ritz said. "And I honor it by drawing it."In the midst of Amherst's 250th anniversary year, Ritz has been invited by the Amherst Public Art Commission to display her collection of cray-pas oil crayon drawings of the landscape at the Amherst Town Hall from Sept. 4 through Nov. 30. There will be a reception during the Amherst Art Walk on Oct. 1.
Though Ritz is better known as an abstract painter, her cray-pas drawings are representational. "I wanted to show the town another portion of her work and talent," said commission member Terry Rooney. "She's a very serious, committed artist."
Ritz said her drawings and paintings are all landscapes. "The very last paintings of Monet are my greatest influence to this day," she said. "He passionately loved looking at nature. That's what I live [for]. That's my drug of choice."
When she draws, she said she translates recognizable objects directly from eye to hand. Composition, that is determining where something will sit within the four edges of a piece of paper, is her main goal. In a statement on her Web site, www.lornaritz.com, she wrote, "I seek as deep a space as I can, so that when I see that the sky moves behind the mountain, I simultaneously see that the foreground field comes up towards me."
Listening to the paint
Painting is more improvisational for Ritz than drawing. "I listen to the paint," she said. "The paint always tells me what to do. That takes a courageous trust of the process to go with the flow of it."
Ritz went to the Pratt Institute in Brooklyn to study realist painting but realized before she got her B.F.A. in 1969 that the mode of expression was not for her.
"I felt frustrated because something in me was not getting expressed," Ritz said. That something missing was emotion, and Ritz found that abstract painting satisfied the lack. "When I worked with master painters, they said I was too emotional [when painting] skin, hair and eyes," she said. "It felt like me going to church and having to pray like everyone else. I had my own prayer. But I hadn't found the means to express it yet."
Ritz' drawings, though representational, are also filled with emotion. In "Mt. Norwottuck and Apple Trees," dated Oct. 26, 2008, one can see the oil crayons are thick on the paper, adding richness to each of the many colors Ritz uses. She pays careful attention to light, such as the dark green shadows and splotches of red and orange on the ground surrounding the bare apples trees. Norwottuck rises in the background and catches all the colors of autumn during twilight as indicated by the deep blue and rich red colors of the sky.
The perfect view
Ritz has created many drawings of Norwottuck and apple trees as seen from the Mount Pollux Conservation Area in Amherst. In 1986, Ritz moved to Amherst where she planned to stay one year. Originally from New England, she was reunited with the lushness she loves and has remained ever since. Ritz said she has been drawing the view of the Holyoke Range from Mt. Pollux for 22 years.
She said that every time she goes up there, she thinks she needs a new vantage point. But after carrying her heavy easel and drawing equipment around seeking a new location, she always ends up at the same spot overlooking Norwottuck and the apple trees.
Ritz captures the view during all seasons that she can endure being outside for an extended period. In one drawing, titled "Ruby Red Mountain," the range is colored a bright and burning red. For two days in November, Ritz said the mountains turn ruby red before yielding to the sparseness of winter. The color and light of the range as represented in the drawing is so strong that the apple tree in the foreground almost melts into the rich red mountain.
Irwin and Martha Spiegelman of Amherst also appreciate the beauty of the Amherst view Ritz often turns to for inspiration. They began the Norwottuck Art Project and have been raising money since June, 2008, in order to purchase one of Ritz' "Mt. Norwottuck and Apple Trees" drawings to present to the town for permanent public display in either Town Hall or the Jones Library. For more information or to help with the effort, Irwin Spiegleman can be contacted at 253-7934 or by e-mail at spieg52@yahoo.com.
"It happens to be a subject that's deeply embedded in the people of South Amherst," Irwin Spiegelman said. "Whether [people] give money or not, it's something that recalls living in a particular place. At least it stops them for a moment to think about where they are and the landscape."
Singing through Color
By Jenny Spataro, AMHERST BULLETIN, – December 10, 2007
The Oxbow Gallery, Amherst, Ma
An exhibit by Amherst artist Lorna Ritz at the Oxbow Gallery in Northampton reflects a past year of travel by the artist, as well as the loss of a very important person in her life. The exhibition, "Life, Passion and Paint," features landscapes created on an artist's residency in New Mexico and a series in response to the death of her father.
In an artist's statement she writes, "My paintings have evolved into a whole new realm of painting this year."
Ritz received a bachelor's degree in fine art from Pratt Institute in New York City in 1969 and an M.F.A. in painting and sculpture from Cranbrook Academy of Art in Michigan. She has taught at the Rhode Island School of Design, Brown University, the University of Minnesota, Dartmouth College and the Vermont Studio Center. Among her honors are three Pollock-Krasner Foundation Awards and a Kittredge Fund Grant from Harvard University.
Last fall, Ritz received a two-month residency at the Wurlitzer Foundation in New Mexico, an artists' retreat on 18 acres in Taos. Before long, she realized she wanted to paint on the nearby American Indian reservation, which was off limits to the public without special permission. Every person she talked to granted her a little more access to reservation land, but Ritz still wasn't satisfied.
"Each person told me I had to meet the chief," Ritz said. "Seven weeks into my stay, I met him. The minute I walked into his adobe, he said, 'I know who you are, I've been seeing you get closer and closer each day. You've had my permission all along.'"
In addition to Amherst landscapes, the Oxbow show includes four impressionistic landscapes done in oil pastels that show the Taos mountain she painted while on the reservation.
"[New Mexico] is rocky, dry, monotone, always filled with light," Ritz said, "while in New England, it's moody, sensuous, emotional and lush with color. In New Mexico there are hardly any clouds. New England casts shadows which show the mountains' depths. I love painting low-hanging, fast-moving clouds."
After she returned from New Mexico, Ritz traveled to South Africa as a cultural ambassador for the Augusta Savage Gallery at the University of Massachusetts. While there, at the end of January, she got a call from her brother, who said that her 90-year-old father was gravely ill.
Her father died shortly after Ritz returned home.
Following his death, Ritz took some time off from painting, and began to worry that she wouldn't be ready for her Oxbow show this month. However, several weeks after her father died, she said she awoke to a sense of him giving her a kiss on the cheek – and she knew her father was there. She knew he was going to be all right and that he was in a good place.
"Since then I have been elated," she said. "I have strength I've never had before from knowing that he's smiling at me."
From April to October she created one painting after another.
"I really worked," she said. "I had renewed inspiration."
She focused on her abstract painting.
"It's really alive, completely free, it's about trusting that an idea will come when you least expect it," she said. "It's no longer sky, earth or gravity." Instead, she said, it's space breaking the flatness of two-dimensional paper, creating the illusion of depth through how the colors relate.
"I come from the tradition of abstract expressionism," she explained. "But I am re-inventing what that means to me, singing through color in my own voice."
The first painting, "Eternal Presence," she dedicated to her father.
"It's about the pleasure I had painting it," She said. "I knew my father would want to me to be happy. I felt him every time (I worked on it)." The painting is composed of the colors of April and reflects Ritz's feelings at that time of year.
"I love life and painting, and I am a passionate person," she said. "If there's anything I want people to get out of my paintings, I want it to be feeling."
"The Artful Mind"
Great Barrington, MA. March 2004 written by Nanci Race
Interview Excerpts:
NR: "Do you think that the titles of your paintings are instrumental in guiding the viewer's interpretation of the work?"
LR: "The titles are mere guides, but not necessary to feel the energy of the paintings. Titling is my way of distinguishing paintings from each other, but I don't want the viewer to look for objects by bringing his own reference to the titles, such as searching for 'a tree' or 'a moon' that clearly is not there. The titles come from what I was feeling when I painted them. I go through a search process and then I name it."
NR: "Do you care if viewers don't "get it" when they look at your work?"
LR: "I admit that my paintings take effort to 'see;" if people don't want to do any fraction of the work I put into each painting, I understand and accept that. It is always a nice surprise when people get absorbed in the paintings, often not even knowing why, but being willing to be on unsafe territory. That takes alot of courage. Rather than trying to understand, they accept the mystery just as I do when I go through the process of search. I expect nothing but hope for everything. I am a mystery to even my own self. People who only try 'to understand,' miss it, and me."
NR: "Do you hope that your paintings will evoke strong emotions, thoughts, ideas, or memories to the viewer?"
LR: "The paintings should not have been painted unless I myself have gone through an evolution, any vestige of which I would hope viewers would experience. Not one brushwork comes out of anything less than me at my highest self, me at a place of intent and meaning."
NR: "What would you say is the most satisfying part of your work?"
LR: "Looking forward to the painting I have not yet painted."
"The Daily Hampshire Gazette"
Northampton, MA. April 6, 1998 excerpt written by Phoebe Mitchell
Solo Show: University Gallery, Fine Arts Center
University Of Massachusetts
""The color combinations in Ritz's landscape drawings serve as a jumping off point for the ten abstract oil paintings in the show. She evokes the visceral feelings which a landscape or a season or a certain time of day inspire. Abstract painting is not for the faint of heart. Clearly, Ritz is not afraid of taking on the challenge, and she has the vision to meet it."
"The Amherst Bulletin"
Amherst, MA. March 25, 1994 excerpt written by Christine Benvenuto
"Hillyer Gallery, Smith College, brings together the work of two abstract expressionist painters, who have known each other for 30 years., James Gahagan of Woodbury, Vermont, and Amherst resident Lorna Ritz started out as teacher and student in the 1960's at New York's Pratt Institute. "I don't paint what I see," she insists. The colors in the landscape glow from within because the colors create the light."
The feel of paint under one's skin
excerpt written by Larry Parnass, ARTS ALMANAC
Northampton, MA. – November 22, 2004
One-Artist Show, The Oxbow Gallery Northampton, Ma
Ritz's painting has changed over decades , but I doubt the intense feeling that this talented child felt for her art has ebbed. Today, Ritz continues to live and breathe painting. The passion that took root in the child traveled through realism and found flower, in the adult, in abstract expressionism. That post-World War II art movement set painters in search of subconscious desires and truths. Artists with this inclination maneuvered paint in front of them, but looked within to assess it. And so it is for Ritz. She uses color to find shape. And she employs shape to express the beauty that comes to Earth in the play of light through color. The artist spends six to eight weeks working a canvas, applying and removing paint to find where it must lie, in order to reverberate. While the landscape around her home helps start paintings like "Root of a Mournful Cry," the work continues in the artist's imagination. "I need to look out at nature for these to happen. I need to look out," she said, "in order to go in." Ritz is clearly reveling, in these exuberant works, in her discovery she no longer needs to fit her sense of beauty into recognizable objects. "It was so exciting to see that I could move space with color rather than form," she said. "I'm trusting that more, the older I get," she said. "It does move me emotionally and I feel it in my body."
Abstract Art Online "The Big Abstract Show"
The Painting Center
52 Greene Street, New York City
This massive show, curated by Denise Gale, includes 26 artists – all non-members of the Painting Center who have submitted their work for exhibition there. Some of the names may be familiar to readers of these pages such as Lorna Ritz whose work was profiled in our May 2001 issue. Ritz's painting matches Aitchtson's free-spirited treatment but does so with larger more solid forms bumping up against each other. Lines are defined here by where the forms meet each other. You get a strong sense of close-up, lyrical, landscape without it being explicitly stated. The color reinforces the sense of motion and is as important to the forms as the paint handling. Baer gets the same push and pull out of the space as Ritz.